JUST Water will be arriving on the shelves of Asda stores across the country in May following our successful Dragon's Den-style pitch to the British supermarket retailer.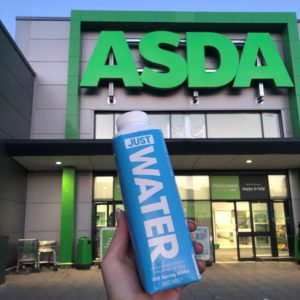 JUST Water's commitment to sustainable and innovative packaging struck a chord with Asda's buyer and senior management, as the listing coincides with Asda's recent 'plastics unwrapped' pledge to use less and recycle more. Asda's choice to stock JUST Water is projected to remove 18 tonnes of plastic from its shelves every year.
In its pledge, Asda president and CEO Roger Burley said: "We have challenged ourselves to look at what more we can do to reduce the amount of plastic in our business and within our sector as a whole."
Founded by Jaden Smith, son of Will Smith, in 2015, JUST was the brainchild of a mutual passion for making things cleaner, safer and better for everyone. JUST is different to other water brands because the carton is 100% recyclable and made with 82% plant-based materials including sustainably farmed sugar cane and paper from FSC certified forests.
In December 2018, we were invited to attend the 'Merchants Den' at Asda HQ in Leeds – a quarterly programme designed to support NPD launches. The pitch, which included key commercials, customer and operational messages, was presented to Asda's senior management and buyers. Following the successful pitch, JUST Water will receive a launch media package which will drive awareness and sales through an impactful launch plan and internal engagement.
For more information about JUST Water, visit our portfolio page.
Hydrate responsibly – drink JUST and join the conversation on Instagram, Facebook and Twitter.