Back to news
5 Sep 19
Fulfil wins extra brownie points from consumers with exciting new flavour launch
FULFIL – the high protein, low sugar impulse snack with 12 indulgent flavours in its range, is ready to launch its most chocolatey bar yet – the decadent Chocolate Brownie, which will be available in UK retailers from September.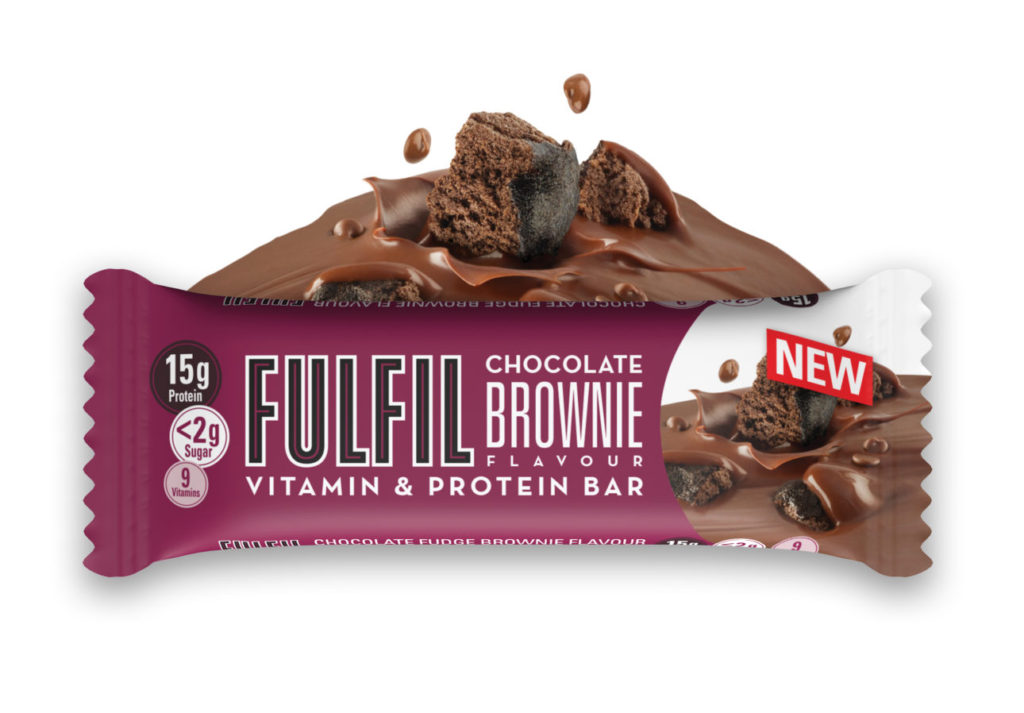 We want to get as close to a confectionery bar as possible in terms of taste, texture and experience – we want to give that well rounded confectionery taste while offering protein and low sugar. This bar offers consumers the perfect indulgent flavour they expect from an impulse snack whilst also being healthier.
Dave Pogson, UK managing director
Since it launched in 2016, FULFIL Nutrition has always given consumers what they have asked for – healthier snacks that offer the taste and texture of traditional confectionery countlines.
"Chocolate Brownie has a rich, fudgy centre enrobed with creamy milk chocolate and topped with chocolate chips – a flavour which has been requested by our FULFIL fans and we are proud to now deliver it to them."
Chocolate Brownie will be available in both the 40g and 55g sizes and is the second NPD for FULFIL this year – May 2019 saw the introduction of Chocolate Peanut Butter and the popular Chocolate Peanut & Caramel also expanded to include a 40g offering. Alongside this, FULFIL launched its multi-million pound 'Life's Wonderfuel' campaign which introduced the brand's belief in living life to the full.
Dave added: "We recruited a panel of FULFIL fans to taste-test our newest bar before launch, so we are confident it will get the seal of approval from our consumers.
"FULFIL is breaking the mould of traditional protein and chocolate product lines and the success of its UK launch speaks for itself as FULFIL is now the number two Healthy Bar Brand in the UK in value terms* and has a UK weighted distribution of 58%**".
FULFIL's target consumer is a health conscious, on-the-go person who is looking for a healthier snack without sacrificing taste – the 40g bars benefit from 15g of protein, less than 2g of sugar and the 55g bars include 20g of protein and less than 3g of sugar. The whole range also includes nine vitamins in each bar.
Dave continued: "We've learned that the needs of consumers are not all the same and we want to ensure FULFIL can fit into everyone's day – FULFIL is the perfect snack not only for those who are working out, but anyone who leads an active busy life.
"FULFIL launched in the UK in 2017 and its success is due to a combination of an innovative brand proposition, coupled with strong NPD – reinventing impulse snacking with genuinely tastier and healthier bars – as well as impactful and disruptive in-store visibility."
Find out more about Fulfil Nutrition at https://fulfilnutrition.com/
*IRI Marketplace Cereal and Sports Nutrition Single Bar Brands Value Sales L52Weeks to 14th July 19
** IRI Marketplace Brand Weighted Distribution L4Wks 14th July 19